---
Don't wish to purchase a Full License?
Click HERE to Rent-To-Own from Splice
$9.99 /mo. for 20 months
Vocals, Evolved
Want to establish your own signature vocal sound? With five powerful vocal engines onboard, iZotope VocalSynth 2 is what you need to get the job done. VocalSynth 2 has been completely redesigned, featuring more power, a revamped interface, and better CPU optimization than its predecessor. You also get tons of presets to help you get up and running fast. Manipulate a vocal's nasality, vowel shapes, and formant using VocalSynth 2's Biovox tool. Enhance your production with quality stompbox-style vocal effects. Three modes of operation give you an incredible level of flexibility. VocalSynth 2 features inter-plug-in communication with iZotope's Neutron, Ozone, Tonal Balance Control, and more.
Five powerful vocal engines onboard
iZotope spec'd VocalSynth 2 with five powerful vocal engines: Vocoder, Compuvox, Polyvox, Talkbox, and Biovox. These work in tandem with VocalSynth 2's stompbox-style vocal effects and streamlined control set. VocalSynth's wavetable synthesis or a sidechained instrument are ideal starting points for synthesized computer-esque voices, organic-sounding harmonies, glitchy digital spoken work, and singing synthesizers. You can also manipulate the human vocal tract, adjusting characteristics like nasality, vowel shapes, and formant, to better tailor a vocal to your project.
5 vocal engines:
Vocoder
Compuvox
Polyvox
Talkbox
Biovox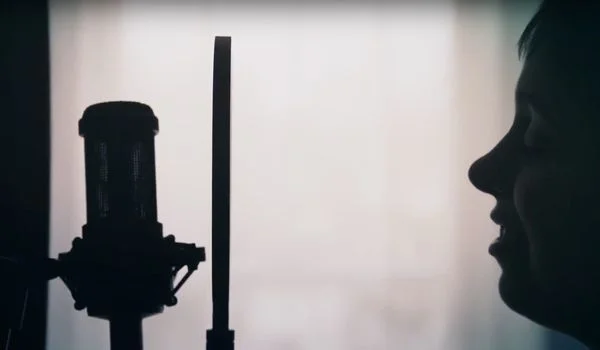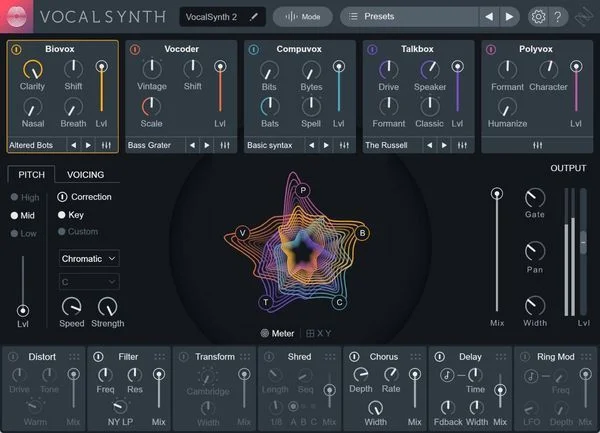 Stompbox-style effects and pitch correction
To define the sonic character of your vocals, VocalSynth is equipped with powerful stompbox-style effects, including variable distortion, filtration, beat-repeating, speaker convolution modeling, stereo delay, chorus, and ring modulation. Also onboard is real-time pitch correction that corrects off-key notes while preserving the original voice formants (rather than scaling them along with pitch) for natural-sounding results. These drag-and-drop effects can be chained in any order, giving you complete control over your final sound.
7 vocal effects:
Filtration
Distortion
Beat-repeating
Speaker Convolution Modeling
Stereo Delay
Chorus
Ring Modulation
Voice generation and presets
In Auto mode, VocalSynth's voice generation capabilities let you stack octaves, harmonies, or unisons — all without MIDI input. Simply select the number of voices, and what intervals you want, and VocalSynth does the grunt work. If you prefer, though, you can drive VocalSynth with your MIDI controller for the precise harmony voicings you're after. Or use Sidechain mode to drive VocalSynth 2 with any audio signal. And if you're after instant gratification, VocalSynth's presets give you immediate access to the sounds of legendary vocal production techniques you've heard on your favorite recordings.
Part of the iZotope ecosystem
Like Neutron, Ozone, and Tonal Balance Control, VocalSynth 2 features inter-plugin communication, so you can seamlessly integrate it with the rest of your production and analysis software. You can view VocalSynth 2 within Neutron 2's Visual Mixer and Masking Meter and also within Tonal Balance Control, allowing real-time interaction and visual feedback. At Sweetwater, we appreciate the efficient workflow we get from iZotope software.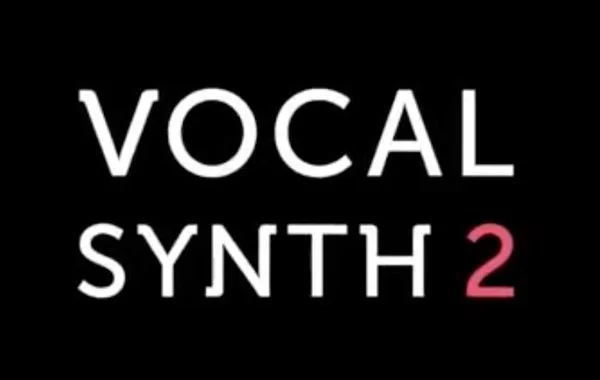 iZotope VocalSynth 2 Features:
More power, a revamped interface, and better CPU optimization than its predecessor
5 powerful vocal engines for sculpting unique signature vocal sounds
Biovox manipulates a vocal's nasality, vowel shapes, and formant
Quality stompbox-style vocal effects for enhancing your production
Pitch correction preserves original vocal formants and timbre
Automatic, MIDI, and Sidechain generation capabilities
Presets quickly access the sounds of legendary vocal production techniques